QI HUD Wireless Charger
Regular price
$42.99
Sale price
$34.99
Save 19%
/
---
Convenience when driving should be a top priority for drivers to improve safety and comfortability of passengers, especially when loved ones are on board. Car accessories that give ease to driving should be on your list to acquire, such as those that concern charging and navigation. They are two tasks you do very often that can take away focus on driving and that could be risky.
Now, you can avoid road risk while still doing important tasks to your driving. Fully focus your attention on the road as the  QI HUD Wireless Charger  does the job for you -- conveniently charges your phone to full battery and aid navigation with the HUD reflector display using your phone's GPS app. It's stress-free and relaxed driving at its finest!
Stay connected all the time. No more low or empty battery on the road.

Multi-task safely while driving, between charging and navigating on the road.

Easily navigate your way with the HUD display that mirrors your phone's GPS

The display could also be used for other purposes such as vanity mirror and the likes.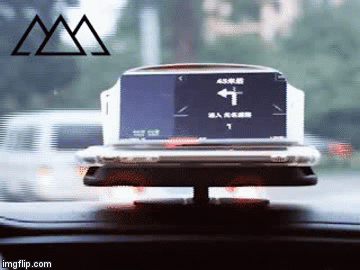 Multipurpose Mobile Phone Holder
In a glance, the QI HUD Wireless Charger looks like a holder to keep your mobile phones fixed on the car. It is primarily a wireless charger and a GPS navigation aid when driving.
Excellent Wireless Charger
This is actually a wireless charger to keep your mobile phone from running, especially on the road. The wireless charging function works well with many Android and iPhone models that are QI enabled. It has an upgraded induction that can charge a phone within 6mm distance. It is also a fast charger.
HUD Optical Mirror Display
It also features a HUD (Head-Up Display) optical mirror that reflects and displays your mobile phone's screen, very helpful most especially for road navigation. Use your phone's GPS app without the hassle of viewing it directly from your phone. Just position your phone at bay, lying and facing the mirror and it would instantly give a mirrored projection of your GPS.
The reflective panel is made from organic glass that is anti-scratch, waterproof, and dustproof. It reflects an image very clearly while keeps its transparency, not to distracted driving.
Using the HUD: Open GPS from your phone, set the line and click HUD mode. Now you can start the HUD navigation.
Conveniently Safe Driving
This charging panel sees to it that it is helpful rather than a distraction to driving. Just place it at the center flat of the dashboard and you can start operating it. It surely won't block your sight off the road as it is an important consideration for drivers, unlike other cell phone holders and chargers. The HUD feature adds more convenience as you don't need to tilt or look down to operate it, see the direction clearly thru the mirror display.
It has a  
Free Rotation 
feature to easily adjust viewing angles so it gets more comfortable. The panel can be easily fixed with a 3M adhesive to the dashboard's flat surface.
Full Protection for Your Mobile Phone
You don't have to worry that your phone will fail or get damaged by using this panel. It has overpressure protection, overcharge protection, over-discharge protection, overcurrent protection, temperature protection, short circuit protection, magnetic field protection. Name the protection you need and this tool got it.
Your cellphone protection also includes its battery. It has a thermostat control that guides charging to a full low temperature that is friendly for the battery. It also has an automatic charge stop when the battery is full. 
The panel can smartly recognize non-mobile phone device you put above it, like keys or coins, so you are sure that there'll be no power wasted. It has an anti-slip feature so the panel or your phone won't get dislodged accidentally.
Ergonomic and Versatile Panel
The glass panel is foldable. Simply fold it when not in use and you can still do cellphone charging. Charging function is compatible with QI enabled mobile phones. On the other hand, the HUD display can accommodate phone screens up to 5.5 inches. The glass panel can also be used as a vanity mirror
Don't miss an important phone call while on the road and drive safely in the right direction.
Get informed, get updated, and get driving safe with the
Reap the benefits, grab it now!
Features:
Multifunction wireless charger

Universal phone stand

GPS Navigation HUD Image reflector

Reflective display panel made of organic material

Easy to install with Anti-slip attaching

Doesn't block eyesight while driving

Mirror Effect - can be used as a vanity mirror, too.